News
Jun 11, 2011
by John • Letters, News • Tags: Leader, Manila • 0 Comments
Frank writes about his time in Manila, attending mass and benediction. He also refers to his impending repatriation to Australia on the US aircraft carrier "Leader".
01-10-45
Dear Dad,
Jus a few lines to let you know I'm still at Manila, but have been notified that we may be sailing to-morrow, tuesday. It's not quite definite, but I think we'll be on our way in a day or two, and am pretty certain to be home again sometime this month. Our boat is probably the aircraft carrier, "Leader", and should do the trip in about 10 to 12 days.
Have not had anymore mail up to date, but may get some to-morrow as I think a lot of air mail arrived today. I have written to all the family, and I don't think there's anymore news I can give you. I'll be glad to be on my way as I'm just busting to get home and see you all again. I'm enjoying myself thoroughly here but, believe me, pop, there's no place like home, and will be glad when I say a final good bye to these boong countries.
Well Dad, I've just come back from Mass & benediction, and am feeling pretty tired. The needles and vaccinations I've had in the last couple of days have made me restless at nights, but I'm pretty right again now, and can do with a good nights' sleep. Be seeing you soon;
lots of love,
Frank.
Jun 11, 2011
by John • Letters, News • Tags: Japan, Manila • 0 Comments
Frank asks a number of questions about his family and praises the work of the American soldiers who looked after him and other POWs in Wakayama, near Yokohama.
28/9/45
Don. Coy
3rd Aust, PW Reception
Group Manila.
Dear Stepmother,
I received your very nice letter written on the 21st of last month, yesterday, and I was tremendously glad and relieved. I also received yesterday two letter cards of about 30 words, one from Dad, and one from yourself, both written on July 30, 1945 and are probably replies to the 40 word letter card we were allowed to write at Xmas 1944, from Japan. Prior to these three letters, the only mail I've had, were seven letters from home, all written before August 1942, and received in 1943 and 1944, so perhaps you will understand how pleased I was with these letters. I think the worst thing I experienced was continual lack of news from the family; dad is getting up in years, Bill is in the R.A.A.F., Dulcie & her Marilyn very ill with pneumonia and other things, made time go slow, but now I've had these letters, & all that is over now.
I had an idea that Bill may have been married during my absence, but I guess my eyes nearly popped out on learning he had a baby. I don't know whether its a her or he, but I guess any baby of Bill's will be some kid, and will be real glad to make its acquaintaince. I suppose Bill's nipper won't be the only new relations I've got, as I suppose the sisters' families will have increased also. Did Jack ever take the plunge?
Well, Mum, I've had a wonderful time since the war finished, especially since we contacted the American Red Cross people at Wakayama, near Yokohama, on the 15th of this month. They did everything they could for us, especially the crew of the hospital ship "Consolation" which took us from Japan to Okinawa. Our present camp here, an A.I.F. camp with Aussie nurses, was built by American G.I.s, and even now, they still do all the work round the place, and all our time is all our own. I can't say enough for the Americans, but i'm still glad to be back with our own Australian camp andd officers. To-day I met two chaps from Wollongong, Roy Connors & Tubby Crimmins of Pt. Kembla.
I do not think it will be very long before I will be leaving for home, anything from four days onwards, I think we will get a boat home, but may be here for no longer than five weeks, and there is also a slight chance of a plane home, so don't be surprised if I unexpectedly pop in for tea in the very near future.
Gee Alice, thanks a lot for your "welcome home" and I sincerely hope you people won't be disappointed in me. I don't think you will be, although I guess I've changed a bit. We fellows think of nothing else now, but getting home to Aussie, and meet our families and friends once more. I've been through all the medical tests, have been re-equipped and fitted out, and believe me, its a quite a pleasure to be able to buy things what you want, once more. I guess I'm recivilizing myself as fast as I can.
Here comes my cobber with our beer ration, so I guess I'll close now. I'll write to Dad tomorrow. Tons of love and good wishes, & "I'll be seeing you",
your stepson,
Frank. xx
Jun 11, 2011
by John • Documents, Maps, News • Tags: Japan, Kanchanaburi, Malaya, Ohamma, Pudu, Thailand • 0 Comments
Frank kept several maps that relate to his time as a prisoner of war. The map showing the location of prisoner of war camps is very interesting and contains a high level of detail.
Map of Pudu Gaol
This map was drawn by Charles Edwards. He was in Pudu Gaol, Kuala Lumpur, with my father. I have since obtained a much larger and more detailed copy of this map from Mr Edwards however I am yet to locate a scanner large enough to scan the map.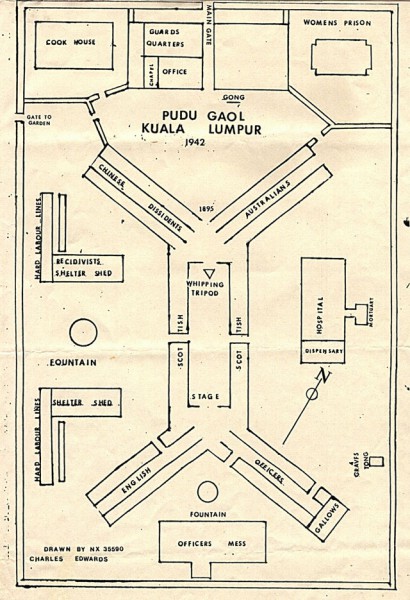 Map of Ohamma, Japan.
I found this map of the Ohamma region among my father's belongings. It includes some detail about the number of prisoners located in Ohamma and nearby Nagasaki.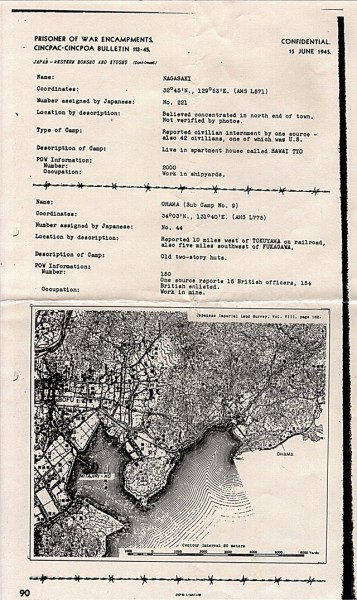 Prisoner of War and Internee Camp Location Map
This map was created by the Red Cross Society. The reverse of the map has a lot of detailed information about the countries and the location of the prisoner of war camps. Download a high resolution copy of the map.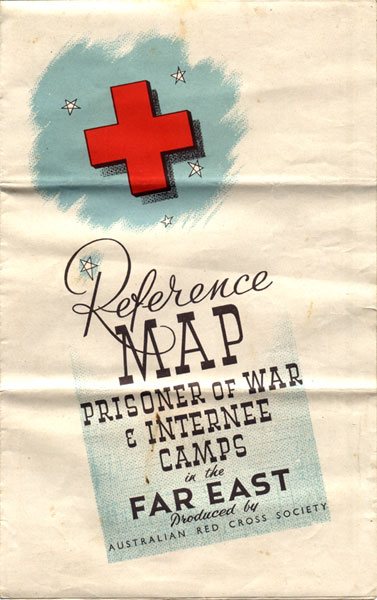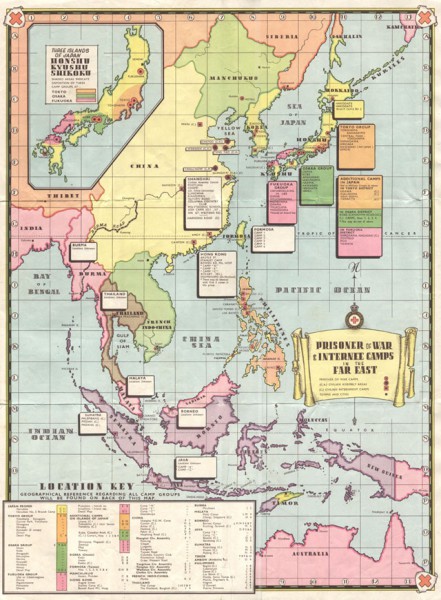 Kanchanaburi Tourist Map
This map was obtained for me by a Singaporean friend, Irene. She had visited Thailand in 1999. It is not detailed but provides some idea about the area of the Thai-Burma Railway.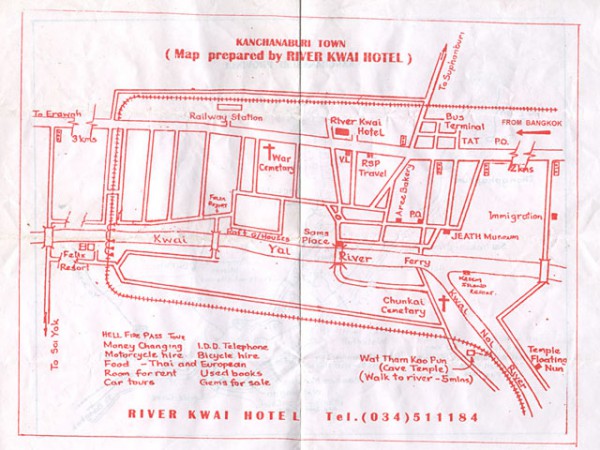 Kanchanaburi Province Map
This map was obtained for me by a Singaporean friend, Irene. She had visited Thailand in 1999. It is not detailed but provides some idea about the area of the Thai-Burma Railway.